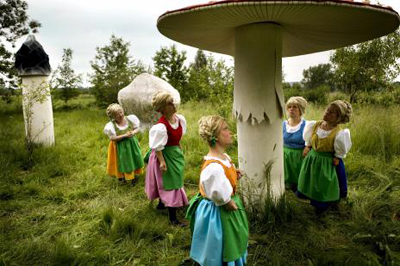 Katarzyna Kozyra
Summertale
Video, 21'24"
2008
Summer Tale is most recent film made as part of the In Art Dreams Come True project. It is a fairytale story that in the finale gives way to gore-style horror. The plot takes us to a lovely house and garden where a group of midget women lead an idyllic life. Into their harmonious and organised world magically enter Maestro, Gloria Viagra and the artist herself stylised as
Alice in Wonderland. At first, the visitors arouse curiosity and are treated with sympathy. But their strangeness violates the fairytale world's unwritten laws, resulting in a tragedy. Under
an appearance of benevolence and openness hides a fear and hatred of strangers. Music is the language in which the protagonists communicate here — feelings of happiness or sadness are expressed in the form of opera arias.
[AT, trans. MW]